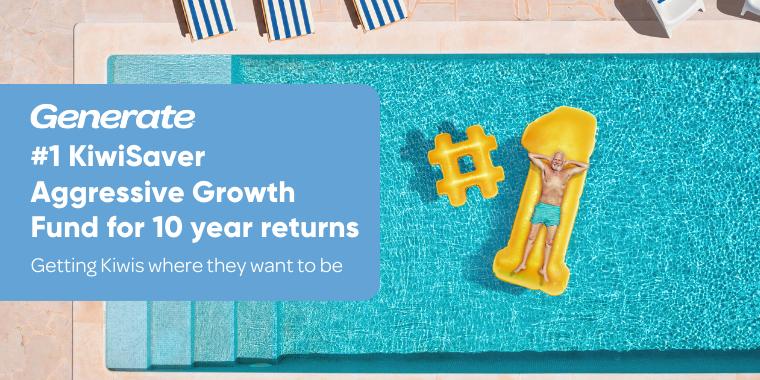 We're extremely proud to share the latest rankings and long-term returns for our three flagship KiwiSaver funds:
The Generate Focused Growth Fund ranked 1st
out of 7 NZ Multi Sector Aggressive Category Funds for 10-year results to 30 June 2023*
The Generate Growth Fund ranked 2nd
out of 13 NZ Multi Sector Growth Category Funds for 10-year results to 30 June 2023*
The Generate Moderate Fund ranked 1st
out of 12 NZ Multi Sector Moderate Category Funds for 10-year results to 30 June 2023*
We believe these KiwiSaver results validate our company ethos and commitment to investing for the long-term and empowering Kiwis to make smart decisions regarding their KiwiSaver savings.
"When Generate first started, one of our key objectives was to educate Kiwis about making the most of their retirement savings," says Mr Tongue. "We're thrilled that 10 years on, we have over 81% of our members' funds in growth funds, versus the market average of 47%. That reflects the success of our strategy, and should make a significant improvement to our members' retirement."
In the last 10 years to 30 June 2023, Generate's Focused Growth Fund has created returns of 9.4% p.a., outperforming other similar aggressive investment schemes which average an 8.7% return.
Our Moderate Fund also ranked first in its category for the 10-year returns in the MorningStar KiwiSaver Quarterly Report returning 5.5% p.a. and the Growth Fund is another notable winner, returning 8.7% to customers p.a. over the same 10-year period.
"It's likely that those in a growth fund will be materially better off at retirement than those who remain in default balanced funds or more conservative funds over the long-term. Customer awareness of that relies on having the kind of access to information and advice that Generate offers through our extensive adviser network," explains Mr Tongue.
"Over the years, our nationwide network of advisers has supported New Zealanders in choosing the appropriate KiwiSaver fund for their savings goals and the right contribution rate, meaning that many of our customers have chosen growth-focused funds, like our Focused Growth Fund."
While over the decade delivery of fund performance for customers has been and remains our key goal, we're also proud of the impact investments we've been able to make that have a positive effect on our communities, such as social housing developments and New Zealand Air Ambulance, via a material shareholding in the parent company.
Since 2020, we have invested over $45 million into warm, affordable housing for New Zealanders with partners including the Salvation Army and Brightlight, while providing fair market investment returns to our KiwiSaver members.
"Our 10-year results are an opportunity for us to reflect on 10 years of Kiwis helping Kiwis. We're proud to have table-topping KiwiSaver funds, and know that the impact of some of our investments reaches not just our customers, but also communities around New Zealand."
Read the full report: Morningstar KiwiSaver Survey (June 2023).